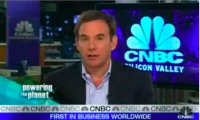 Conferences, LinkedIn, cable TV, trade publications, and YouTube. There's an explosion of communications channels to reach customers, investors, and government decision makers. But all those options lead to a lot of clutter, and stiff competition for one of the scarcest commodities in America: Attention.

With limited budgets and so many communications channels to choose from, the only way to break through is with a smart strategy designed by people who know how to pick the right blend of media channels – and generate attention through them. Cleantech companies trying to stand out from the competition don't need traditional public relations. They need attention generation services, a core Tigercomm competency that we deliver in three ways:

Media relations
Whether it's a pre-commercial start-up or a global corporation, we have helped companies shape attention-worthy actions and got them noticed by media outlets that reach critical audiences.

From highly technical industry publications to the New York Times editorial page, we have collectively generated tens of thousands of stories in practically every type of news media. Every day, we network with and pitch stories to reporters, producers and editors. It's integral to what we do, which is why we have the best network of cleantech-relevant contacts in the industry. And, it's why we understand what gets the attention of the media.

Media briefing and touring
There are no short cuts to building awareness among media gatekeepers. It often comes from individual and in-person contacts so executives, products and business plans can be understood by people whose decisions affect your industry. We've conducted dozens of media briefings and tours of media outlets, and we've got best practices down to a system that we're ready to use for you.

Online and social media
Social media is exciting and dynamic, but the work can be infinite. With no end to what can be done online, social media can be a time and budget black hole unless you choose the right platforms and goals. We'll help you wade through the options and choose the channels that will reach the discrete groups you need to engage, then blend your social media efforts with the rest of your communications program.