As one of the top cleantech PR firms in the country, Tigercomm has represented an array of clients across the space, from pre-commercial start-ups to global manufacturers and a Fortune 500 company. We're proud to help the innovative firms, market disruptors and visionary business leaders who are moving the global economy onto a cleaner foundation. Our clients rely on us for our effectiveness, discretion, knowledge of cleantech, and relentless devotion to their success. Below is a partial list of current and previous cleantech clients.
Advocacy



» Renew American Prosperity, Inc.
Renew American Prosperity is the place where people who are supportive of clean energy but don't work in the industry and those who do work in clean economy sectors can come together to support the individuals and organizations leading our nation into a sustainable future...
more

» Governor Jennifer Granholm
Jennifer M. Granholm was was elected governor of Michigan 2002. In 2006, she was re-elected with the largest number of votes ever cast for governor in Michigan. As Governor, Granholm led the state through a brutal economic downturn that resulted from a meltdown in the automotive and manufacturing sectors. She…more

» Sierra Club
Since 1892, the Sierra Club has been working to protect communities, wild places, and the planet itself. They are the largest and most influential grassroots environmental organization in the United States. And their founder, John Muir, appears on the back of the California quarter.

» Friends of the Earth
Friends of the Earth is a national environmental organization dedicated to preserving the health and diversity of the planet for future generations
» Center for Responsible Lending
Since 2002, the Center for Responsible Lending (CRL) has protected homeownership and family wealth by working to eliminate abusive financial practices.

» Enroll America
Enroll America is a nonpartisan 501(c)(3) organization whose mission is to ensure that all Americans are enrolled in and retain health coverage.
» Families USA
Families USA is a national nonprofit, non-partisan organization dedicated to the achievement of high-quality, affordable health care for all Americans. Working at the national, state, and community levels, they have earned a national reputation as an effective voice for health care consumers for 25 years.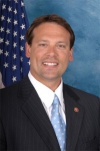 » Representative Heath Shuler
Heath Shuler is a member of the United States House of Representatives from the 11th District of North Carolina and a member of the national Democratic party.
» Checks and Balances Project
The Checks and Balances Project holds government officials, lobbyists, and corporate management accountable for their actions related to energy, government spending, public health, and the environment.

» Defenders of Wildlife Action Fund
Defenders of Wildlife Action Fund provides the wildlife conservation community with a voice in the legislative and political process. The Defenders Action Fund focuses on strengthening conservation policies with focused legislative and electoral efforts.