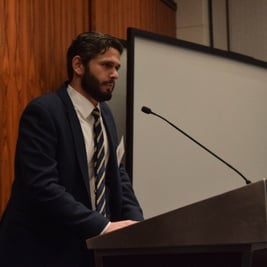 Noah Ginsberg
Account Consultant
---
Noah
started his career in Washington D.C. at the American Council On Renewable Energy (ACORE) working on strategic communications under VADM (ret) Dennis McGinn. As an Account Consultant for Tigercomm,
Noah
works closely with Tigercomm clients on strengthening their messaging and public affairs strategies to better advocate for and educate target audiences about the benefits of clean energy.
A graduate of Rutgers University,
Noah
studied political science and environmental policy, forging a deep understanding of how cleantech companies can navigate markets in today's political economy.
Noah
served as Board Treasurer of New Jersey's Hugh O'Brian Youth Leadership conference and Province Alumni Board Governor for Delta Upsilon, an international non-secretive fraternity.